Remember those Chick tract comic books your mum used to give you to scare you into being good and Christian? This fundy propaganda did to Christianity what
Robert Crumb
did to alley cats. I love finding parodies of these psychotic little
comics
, and the ironic thing is that they're originally unintentional parodies of the Catholic-hating fundamentalist doctrines that they are. Millions of these things have been distributed around the world and they're completely freaky shite. I don't know what bewilders me more... that they're designed in comic format to appeal and scare kids or that the writer completely believes and sells this version of reality.

I've just been looking through the Jack tracts on his website and having a great time. It's a unique style all of his own. What really tickled me is many of the comic books are completely redrawn to appeal to black audiences. Obviously black people won't relate to people being thrown into hell fire unless they see black people depicted so. Even the angels are black in the black version. Jack Chick thought of everything. Yep, hell is for all races! yay! The devil looks cooler in the 'black people' version. What do you think?

And those one's weren't the parodies. I'm not joking.

The following tract takes place after a no good non-Christian guy name Bobby dies after admitting he had nothing to live for. This death is a great opportunity for Ol' Freddy Fanatic to preach to a young freckled face kid who is hanging around with an older smarmy arrogant non-Christian jerk.
"Haw haw" was how atheists used to laugh when this tract was written. Nowadays we snort and guffaw.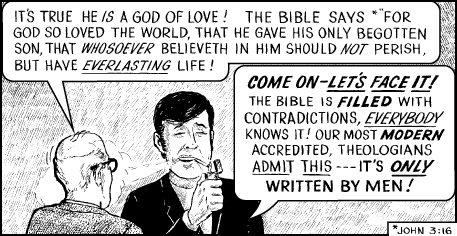 Actually, the man in black is making a lot of sense, but he's about to syphon nicotine through his lungs and potentially harm his body, so we know he's a bad guy, hey kids? Plus, he's wearing black - a dead give-away. Oh, and he's blowing smoke into the Christian's face. Bastard. Doesn't he know passive smoking is supposed to be bad.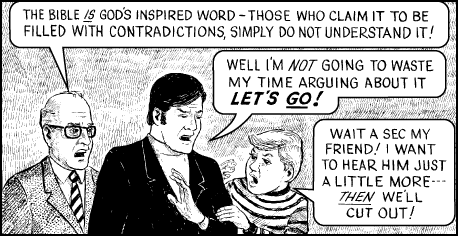 Understanding the bible means ignoring the contradictions and arguing at ambulance scenes. I think there might be some sort of homosexual relationship hinted at in this tract. It sort of looks like Bruce Wayne and his ward, Dick Grayson.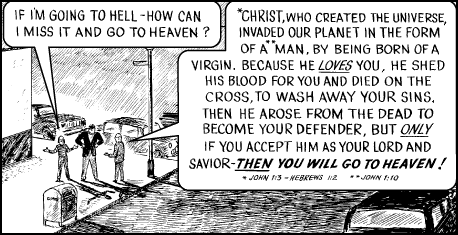 Christ invaded our planet?
I knew he was some sort of Alien. E.T. was actually based on the bible (remember the part where E.T. dies and rises again?) Jesus was always trying to phone home and light his finger up. It's a little known fact that Jesus had a pot belly too.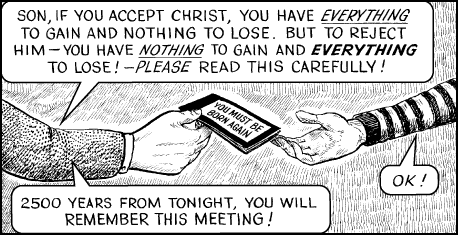 Apparently the approximate year 4370 is going to be a big year for remembering the first time you read a Chick tract comic book.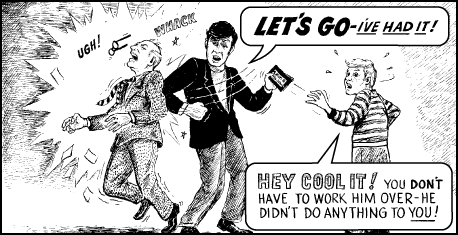 Luckily Christians revel in being persecuted, but still a cheap shot. Nasty atheist Bruce Wayne.

Warning: never discuss theology and drive or you're a "Bloody Idiot"


Chick is a bible expert. He knows there's no such place as purgatory. He's not falling for any of that purgatory crap. What nonsense.. purgatory... pffft. The giant white throne? Now that's for real!

Oh CRAP! Where the hell was the Scooby gang? Where was Fred and Daphne and the hippy guy when this villain was wearing masks in some amazing skkullduggery that even foiled those pesky darned kids. It was Lucifer all along. What a twist! I didn't see that one coming, and he's an ugly bugger too. I wonder why the devil has horns. Does he use them to defend himself?
Ex-Christian.net
recently posted some youtubes of some of the Chick Tracts Films. They played all together at some film festivals (including the LA Film Festival, and Outfest, and some New York Festival as well). You can learn more about them at
www.316now.com
.
Always remember, Jesus loves you more than you can possibly comprehend. But, if for any reason whatsoever you don't come to accept the correct version of Christianity while still breathing air, then that loving god-man is going to make you suffer the most horrific and demented fate ever conceived. There will be no chance of parole or escape. You will not even be allowed to die. You will be tormented and tortured forever.
.
Unconditional love and grace: Isn't it truly amazing?