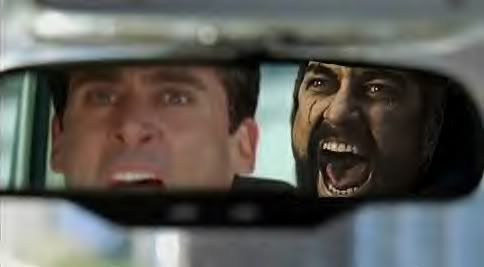 This Noah's Ark sequel is another 'Jim Carrey' sequel that is sans Jim Carrey (see Dumb and Dumberer, The Son of the Mask, Ace Ventura 3 [coming soon - unfortunately]) and apparently is the most expensive comedy ever made, coming in at 175 Million dollars. Just think how many Creation Museums one could have built for that money? - Eight or nine? This'll be a great movie for the Christian set who want a movie about a favourite Bible character without the blood, whipping and bloody gore. Yes, I'm talking about Rambo IV.
The movie is bad. So bad I gave up
streaming
it before the ship set sail. It's kind of like the Titanic in reverse - The ship is full of animals instead of people; it's based on a myth instead of a real incident; and in the end it doesn't sink... the movie did. This is the second blog this week I've done referencing the Titanic and I'm not sure if I can do a third. What's up with that?
Man, I love Steve Carell, he's the best, but he's gone the way of comedic family movie sell-out faster than Tim Allen or Eddie Murphy ever did in this Dr Dolittle meets the Santa Clause mess. I'm sure he got paid plenty for it, so who can blame him? Keep doing the Office and all is forgiven. The only way this movie would have worked is if the Ark set sail leaving a cameo Kirk Cameron
left behind
drowning in the flood of endless animal wee wee and poo poo jokes.
I'm not sure if I worked the Kirk Cameron reference in there logically, but all I've really been wanting to say is that this movie is as stupid as a Creationist Museum, and that Kirk Cameron is a shmuck. Bon Voyage...