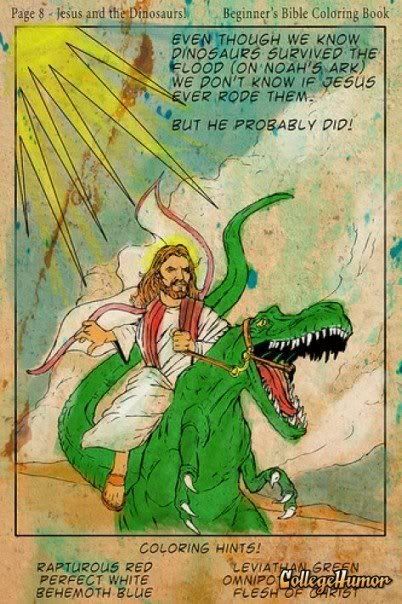 Dinosaurs and the bible... sigh. For years they've been happily teaching Noah's Ark to Sunday school kids and using plastic giraffes and elephants to illustrate how they were organised into the big cubit canoe - two by two - and everyone was happy. The curriculum was set and many grew up and hopefully outgrew it. Then some smart-ass Christian probably tapped the head guy on the shoulder and said, "umm, what about dinosaurs? Umm, we're gonna have to fit in the dinosaurs into the story... somewhere between Adam and Noah". The reply to this conundrum has produced dozens of whacked out theories and ideas to fit them in to the dreamtime fables.
Some of the various ideas I've enjoyed:
Ken Ham vigorously preaches that the book of Job describes a dinosaur when he quotes an obscure scripture that says, "His tail is like a cedar." when the verse actually says "He moveth his tail like a cedar".
The dinosaurs were all originally vegetarians- Those huge sharp teeth evident in T-Rexes and Raptors were for ripping tomatoes apart.
Lizards don't stop growing and in the times of Adam the lizards lived for a thousand years, hence their great size.
Dinosaur fossils don't actually exist. They are part of a huge conspiracy to throw us off the truth of god.
The devil made the dinosaur fossils.
Even the gap theorists who try to fit dinosaurs into an old earth scenario don't have any scientific evidence to back their claims.
It's a hot topic at the moment and I've found some more fun stuff to bring back here to the nest. I found the following
Lewis Black
stand-up routine on Youtube at Kristi's blog,
Pink Prozac
and a similar routine by Bill Hicks. I transcripted Lewis' routine below, but couldn't be bothered giving Bill's the same treatment. You'll have to watch his - it's short and he has more body language to flesh it out.
Bill Hicks:

It Seemed So Plausible


Lewis Black -
Fossils: The Devil's Handiwork
Was the earth created in seven days? No. for those of you who believe it was, for you Christians, let me tell you, you don't understand the Jewish people. We Jews understand that it did not take in seven days because we know what we are good at. And what we're really good at
bullshit
. This was a wonderful story that was told to the people in the desert to distract them from the fact that they did not have air-conditioning.
I would love to have the faith to believe it took place in seven days… but… I have thoughts, and that can really fuck up the faith thing, just ask any Catholic priest.
And then there are fossils, whenever anyone tries to tell me it took place in seven days I reach for a fossil and go, "
fossil
" and if they keep talking I throw it just over their head. There are people who believe that dinosaurs and men lived together; that they roamed the earth at the same time. There are museums that children go to in which have dioramas to show them this… and what this is, purely and simply, is clinical psychotic reaction - they are crazy - they are stone cold fuck nuts. I can't be kind about this because these people are watching the Flintstones as if it were a documentary.
I met gentleman in Georgia who had his set of belief and I had mine, and this makes it tough, because evolution is a major thread in the larger tapestry that I call
REALITY
. He said, "Lewis, Fossils are the handiwork of the devil," (long pause)... I had to remind myself to breathe. I'd been tasered by the concept of the devil. Apparently the devil is like Wile E. Coyote only he is
more
evil and he has a ACME factory where he makes fossils, and he sends his minions to scatter them across the earth every day, in order to confuse my tiny Jewish brain.